Drop Leaf Tables for Small Spaces
Minimalism is a design style that has gained some momentum in the recent decades. Modern day apartments in cities like New York, Los Angeles and Chicago are becoming smaller and smaller if you are not looking to spend an arm and a leg. This means that you will be required to design your interior a bit differently. One thing that can help with this is a drop leaf table. You may be thinking what exactly is a drop leaf table? Well here we are going to talk about the history of this wonderful piece and a few designs that will be a perfect accent to any living space.
A drop leaf table is a table that has a fixed center section and two hinged sections on either side. This allows the table to fold down and become significantly smaller or fold up and fit more people. When the leafs are folded up they are locked into place and can support weight. If the leafs are supported by a bracket then they are a traditional drop leaf table. If they are supported by legs that swing out, then this is a gate leg table, similar but a bit different in style. You can find these tables made out of a variety of woods from cherry to maple. The size and styles of the leafs that the tables have vary by design, but they are all constructed with the same purpose. The drop leaf table is an excellent addition to your kitchen or living room as it can serve multiple purposes. When folded down it can be easily stored or used as a coffee table. When folded out you will be able to sit multiple guests around it and enjoy a meal or some games. Listed below are some examples of drop leaf table styles.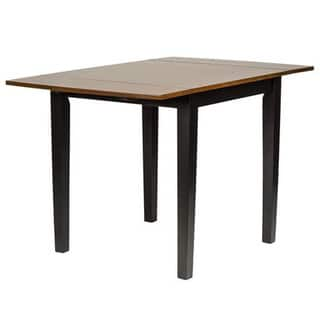 This is the most traditional style of drop leaf tables. It is usually square or rectangular in shape with smaller leafs on the sides. This is a compact table that will be able to fit into any living space. When close it is close in size to a coffee table but fully open it is comparable to a full dining table. It features four legs underneath the table top, one in every corner. Giving adequate support for anything you put on it.
The country drop leaf table style has some more flair to it than the transitional. This has more rounded corners on the tabletop and appears more rustic in color. These are the styles of table that you will find in a farmhouse that is a perfect accent to flower vases. Occasionally this table is circular in shape which gives it a more open feel when the leafs are up. This table has four legs underneath it with a more designed cut to them, adding to the atmosphere of the room.
The Georgian style is commonly found in more affluent areas. This table is traditionally made form mahogany for its powerfully rich color that stands the test of time. With four legs and a rounded bottom to each, this table will be an excellent addition to any dining room. You will be able to find a Georgian drop leaf table in a variety of shapes as well.
The Duncan Phyfe drop leaf table is unique in that it features a slightly different leg pattern from its counterparts. The design comes from the American cabinet maker Duncan Phyfe, who popularized this piece in the 19th century. You can find these tables with one central leg in the middle of the table top with four feet coming off the bottom. They also have two legs, one on each side in the center, with two feet on the bottom. This provides a more stylish and classy feel for the entire table. These are commonly known as "fly legs". Usually constructed with a rich dark wood, the whole table will add power to your room.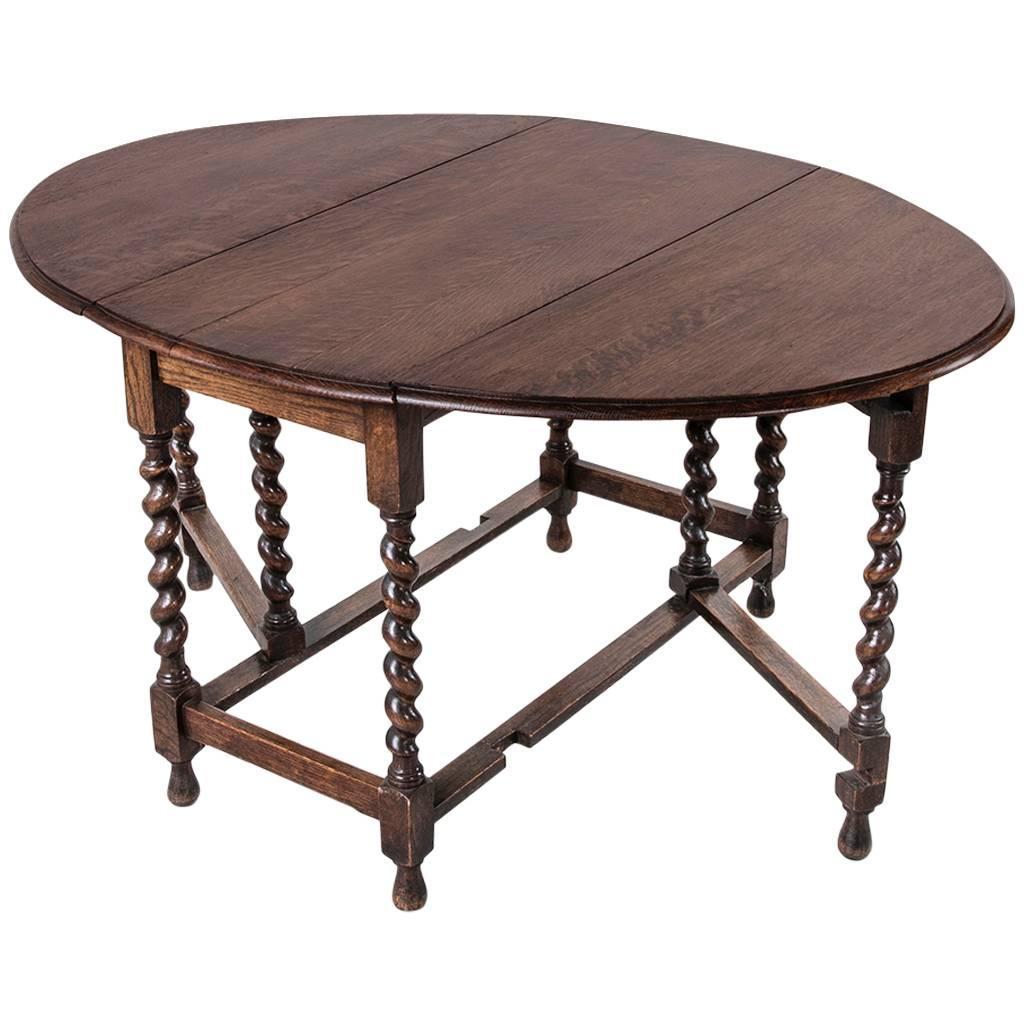 The most antique designed table here, the Elizabethan proves to stand tall amongst the rest. Originally designed in the 16th century, these tables were highly desired as a decorative piece. The legs are usually carved and designed heavily with cup shaped bulbs throughout them. Traditionally made from oak for its sturdiness and color, you will now be able to find them in a variety of other woods like walnut. This table does have an "old" look to it, but it is not outdated. A perfect piece for any antique collectors' apartment or house. It will fit right in amongst the eclectic dining room.